Rosslyn Johnson - New Zealand Artist
Welcome to my website. My name is Rosslyn Johnson and I paint artworks from the beauty I see in nature and also in colourful urban streetscapes.

In New Zealand, where I live, there is an amazing diversity of native flora and fauna as well as breathtaking scenes of mountains, lakes and beaches. My camera is my constant companion as I travel, both in New Zealand and overseas, exploring new scenes to paint. My challenge is to capture the vibrant colours of everything I see, from the mult-coloured houses of Mediterranean countries to the lakes, mountains and beaches of New Zealand that inspire me. I hope you enjoy this journey.



November 14, 2020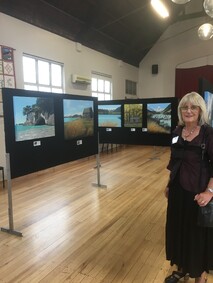 Myself and 5 other artists held a very successful annual exhibition in the St Andrews Parish Hall, Cambridge. The opening night on 30th October was well attended and I sold 3 paintings that night and another 3 over the next few days. I have just sent 4 paintings off to The Dunedin Art Show....
read more